The Famous Women Dinner Service includes 50 dinner plates commissioned by Sir Kenneth Clark in the early 1930s from the Bloomsbury artists Vanessa Bell and Duncan Grant.
In the centre of each plate is a portrait of a famous woman from history or contemporary life such as the biblical Queen of Sheba, movie star Greta Garbo, and Native American heroine Pocahontas. The artists purchased blank white plates from Wedgwood and grouped them into four categories: 12 actresses, 12 writers, 12 beauties, and 12 queens, plus two plates bearing the artists' own faces.
The Famous Women Dinner Service is a stand out example of decorative arts and a milestone in the careers of the artists. It is a demonstration of Bloomsburys' understanding of gender equality and the significance of female stories and histories that are often untold and suppressed such as the poet Elizabeth Barrett Browning who disobeyed her father to marry Robert Browning and escape to Italy.
Image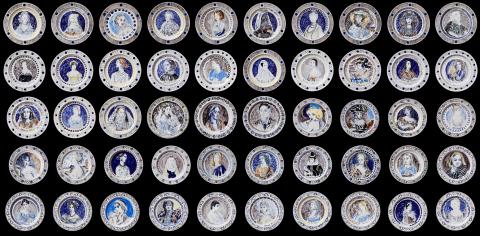 Image courtesy of Piano Nobile Gallery, copyright the Estate of Vanessa Bell and DACS
Region
South East England