The Arts Minister Michael Ellis has announced over £1million joint investment by both National Heritage Memorial Fund (NHMF) and the Art Fund. Norfolk Museums, the National Trust, Charleston Trust and the V&A all acquire heritage of international significance.
Image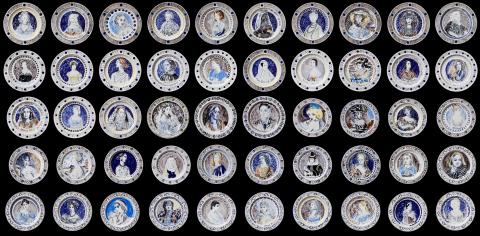 Image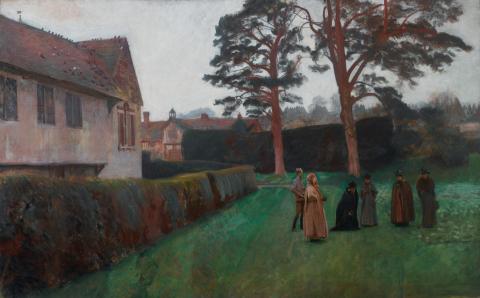 Image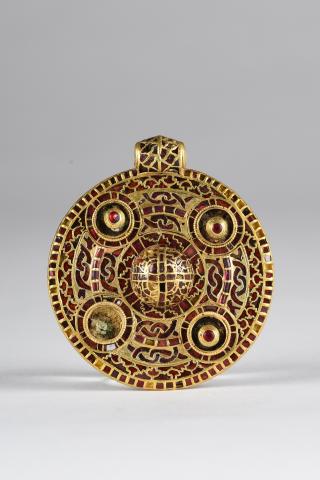 Five museums, galleries and historic houses across the UK are celebrating today, having acquired a selection of incredibly important heritage treasures that were at risk of being lost, in some cases sold abroad.
Arts Minister Michael Ellis announced the news following confirmation of separate grants of £688,400 from the government-funded National Heritage Memorial Fund (NHMF) and £375,050 from the Art Fund, the national charity for art.
The treasures include:
Anglo-Saxon gold and garnet jewellery unearthed in Norfolk in 2014
Famous Women plates by Bloomsbury Group artists Vanessa Bell and Duncan Grant
A Game of Bowls by renowned American artist John Singer Sargent
51 designs by Owen Jones, one of the most influential designers of the 19th Century
Arts Minister Michael Ellis said: "Our heritage provides a window into this nation's great history so I am delighted we have been able to save these treasures. It is right that they are kept on public display for people to enjoy for generations."
Sir Peter Luff, Chair of NHMF, said: "The National Heritage Memorial Fund was set-up to save our most precious heritage at risk of being lost. Working in tandem with the Art Fund, bringing together both public and private money, we've secured the future of an important collection of our cultural heritage for future generations to enjoy."
Stephen Deuchar, Director of Art Fund, said: 'Each of these works adds substantially and creatively to the national collection – greatly enriching the experience of museum visitors from the UK and beyond. We're proud to be contributing alongside the National Heritage Memorial Fund to their purchase.'
The treasures
Anglo-Saxon gold and garnet jewellery unearthed in Winfarthing near Diss by a Norfolk student while metal-detecting in 2014. He discovered an undisturbed grave of an aristocratic lady who died between about AD 650-675. Her jewellery included a large gold pendant inlaid with hundreds of tiny cloisonné-set garnets forming sinuous interlacing beasts and geometrical shapes. A second necklace string comprised two gold beads, two pendants made from identical Merovingian coins and a gold cross pendant inlaid with delicate filigree wire. The latter shows she was probably among the earliest Anglo-Saxon converts to Christianity.
It will now go on display at Norfolk Castle Museum and Art Gallery.
The Famous Women Dinner Service is a collection of 50 hand decorated plates celebrating women through history and contemporary life. It is painted by Bloomsbury Group artists Vanessa Bell and Duncan Grant. Commissioned Sir Kenneth Clarke in the 1930s, it is considered one of the best example of works by Bell and Grant and is unique. It demonstrates an early acknowledgement of feminist politics by elevating female achievement. Women depicted include: writer, Jane Austin; 10th Century Japanese poet, Murasaki; author Virginia Woolfe; Helen of Troy; Pocahontas; Cleopatra; Mary Queen of Scots; performer Fanny Kemble; and film actress Greta Garbo.
It will now go on display at Charleston, the home of the Bloomsbury Group. 
A Game of Bowls by John Singer Sargent is unusual because it is a move away from the artist's more typical portraiture. Painted in 1889 whilst Sargent was staying at Ightham Mote near Sevenoaks in Kent, it depicts Queen and Elsie Palmer (whom Sargent also painted), with their guests, playing bowls on the lawn.
A Game of Bowls is considered nationally important due to its depiction of the historically significant medieval moated manor house Ightham Mote, by a renowned artist, at a particularly important period in the house's history.The Palmers transformed Ightham into a centre of fashionable artistic and literary connections (Henry James, Ellen Terry et al), bringing together creative minds from the UK and America. Sargent captures a moment in the house's interesting history, the setting of which can still be seen today, with a real life scenario of the family hosting their artistic friends.
It will now return to Ightham Mote, now cared for by the National Trust and open to visitors.
Owen Jones was one of the most influential designers of the nineteenth century. An architect by profession, he designed the interiors and the layout of the exhibits for the Great Exhibition of 1851. He also developed the principles on which the teaching at the Government School of Design was based.  He created these 51 designs to illustrate Examples of Chinese Ornament published in 1867. The items were selected from objects in the South Kensington Museum (now the V&A), alongside other collections.
The paintings had been in private collections in the US for some years and their sale represented a rare opportunity to place them in a public collection in the UK. They are now in the collections of the V&A.
Notes to Editors
About the National Heritage Memorial Fund
The National Heritage Memorial Fund (NHMF) was set up in 1980 to save the most outstanding parts of our national heritage, in memory of those who have given their lives for the UK. It will receive £5million of Government grant in aid in 2017/18 www.nhmf.org.uk. Follow us on Instagram: @NationalHeritageMemorialFund #MemorialFinerThanStone
About Art Fund
Art Fund is the national fundraising charity for art. In the past five years alone Art Fund has given £34 million to help museums and galleries acquire works of art for their collections. It also helps museums share their collections with wider audiences by supporting a range of tours and exhibitions, and makes additional grants to support the training and professional development of curators. Art Fund is independently funded, with the core of its income provided by 139,000 members who receive the National Art Pass and enjoy free entry to over 320 museums, galleries and historic places across the UK, as well as 50% off entry to major exhibitions and subscription to Art Quarterly magazine. In addition to grant-giving, Art Fund's support for museums includes Art Fund Museum of the Year (won by The Hepworth Wakefield in 2017) and a range of digital platforms.
Find out more about Art Fund and the National Art Pass at www.artfund.org
About the Charleston Trust
Charleston, the home of Duncan Grant and Vanessa Bell and country meeting place for the writers, painters and intellectuals known as the Bloomsbury group, including Virginia Woolf, T.S. Eliot, Lytton Strachey and John Maynard Keynes is situated in East Sussex.
The house and gardens are open to the public. September 2018 sees the opening of new galleries, café and visitor facilities
Set up in 1980, the Charleston Trust aims to restore and maintain the home of the Bloomsbury Group artists for the benefit of the public. Our Founding Mission is to 'Please, inform and inspire the public about Charleston, Bloomsbury and the arts.'
The Charleston Trust (Bloomsbury in Sussex) receives no direct public income for its core programmes, including the house and garden.
Her Royal Highness The Duchess of Cornwall is Patron of The Charleston Trust.
The unique collection at Charleston is illustrative of the art and lifestyle of the influential Bloomsbury Group and has been on show to the public since 1986.
For more information visit http://www.charleston.org.uk/about-the-trust/the-charleston-trust/
The Charleston Trust (Bloomsbury in Sussex) is a non-profit making company limited by guarantee. Registered charity number 1107313, Registered in England & Wales company number 5212725. Registered office: Charleston, Firle, Lewes, East Sussex, BN8 6LL
Norwich Castle Museum and Art Gallery
Norwich Castle Museum & Art Gallery is part of Norfolk Museums Service which comprises museums, collections study centres and countywide services relating to archaeology and education. The Service remains a unique partnership between Norfolk County Council and Norfolk's district councils, funded through council tax, earned income and grants. NMS is now regarded as one of the leaders in the museum sector and in 2017 was successful in its bid for continuing major investment from Arts Council England. In April 2018 NMS became a National Portfolio Organisation for Arts Council England, one of only 45 out of 845 heritage and arts organisations in England to be awarded the highest level of support. https://www.museums.norfolk.gov.uk/
About the National Trust
The National Trust is a conservation charity founded in 1895 by three people who saw the importance of our nation's heritage and open spaces, and wanted to preserve them for everyone to enjoy.  More than 120 years later, these values are still at the heart of everything the charity does.
Entirely independent of Government, the National Trust looks after more than 250,000 hectares of countryside, 778 miles of coastline and hundreds of special places across England, Wales and Northern Ireland.
More than 24 million people visit every year, and together with 5 million members and over 65,000 volunteers, they help to support the charity in its work to care for special places for ever, for everyone.
For more information and ideas for great seasonal days out go to: www.nationaltrust.org.uk
About the V&A
The V&A is the world's leading museum of art, design and performance, with collections unrivalled in their scope and diversity. It was established to make works of art available to all and to inspire British designers and manufacturers. Today, the V&A's collections, which span over 5000 years of human creativity in virtually every medium and from many parts of the world, continue to intrigue, inspire and inform.