A gold composite pendant with inlaid garnets was unearthed in December 2015 by a student from Norfolk. He discovered the finds within a 7th century grave whilst metal detecting at Winfarthing, near Diss. The pendant was found in the grave of a female and has been described as one of the "most elaborate...ever found".
Among the items recovered in January 2016 by a professional archaeological excavation were a Merovingian coin pendant, two gold biconical spacer beads, a gold openwork pendant with the form of a Maltese cross, a coin pendant with a gold suspension loop, another pendant with a Maltese cross design, a continental pottery biconical bowl, an iron knife and a collection of copper alloy chatelaine rings.
What's fascinating is that these finds reflect a women who was Christian, buried with a cross but not yet buried in a full Christian manner. The entire grave, taken as a whole, is of importance as it helps to build an understanding of the process of Anglo-Saxon society's conversion at this time to Christianity. 
Image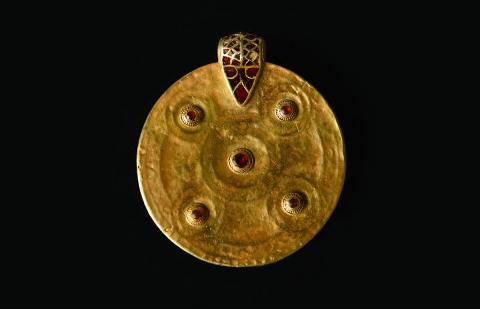 Norfolk Museums and Archaeology Service
Image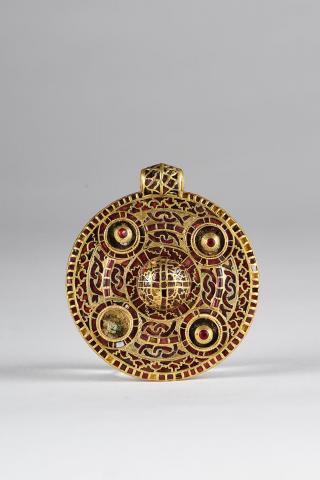 Norfolk Museums and Archaeology Service
Image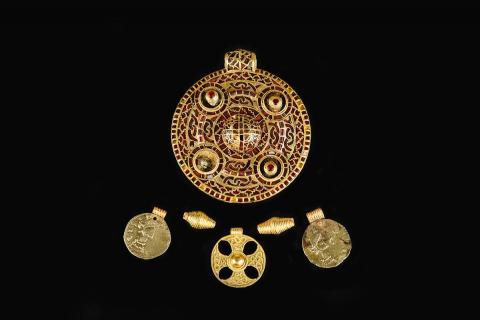 Norfolk Museums and Archaeology Service