An iconic vase formed by master potter Josiah Wedgwood is back on permanent display in Stoke-on-Trent after it was saved for the nation.
Image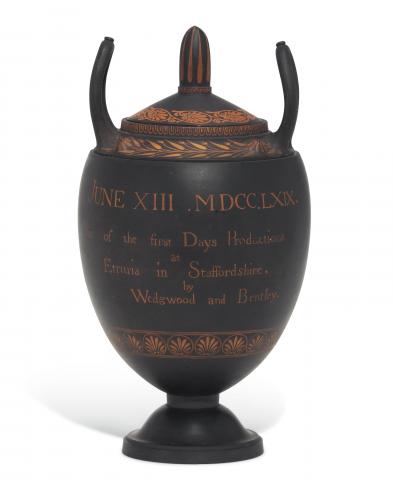 Wedgwood's First Day's Vase has been returned to the Potteries Museum & Art Gallery following a campaign to raise the £482,500 purchase price to keep it in the city.
Stoke-on-Trent City Council and the Friends of the Potteries Museum & Art Gallery launched the campaign to save the vase after it was sold at auction to an overseas buyer last year. A temporary export bar was placed on it by the Government in December, which was extended until July 14.
Donations from hundreds of members of the public, major support from funding bodies – including the NHMF, Art Fund and Arts Council/V&A Purchase Grant Fund – as well as local businesses meant that the deadline was reached with just days to spare.
The fundraising target was reached during the week of the 248th anniversary of the vase being made by Josiah Wedgwood's own hands on the opening day of his factory at Etruria on June 13, 1769.
The vase had been on loan to the Potteries Museum & Art Gallery for 35 years until it was withdrawn by its owner and sold at auction. It is now back in its original display case on the first floor of the museum, within the Wedgwood exhibition.
The city council is currently leading a bid for Stoke-on-Trent to become the UK's City of Culture 2021.
Councillor Anthony Munday, Stoke-on-Trent City Council's cabinet member for leisure, said: "It is fantastic news that Wedgwood's First Day's Vase is back on permanent display at the museum.
"The campaign to save the vase has ensured an important part of our city's culture and heritage remains freely accessible for all to see and admire, and I'd like to say a huge thank you to everyone who has helped to make this possible.
"I'd also like to express my immense gratitude to the Friends of the Potteries Museum & Art Gallery, who have worked tirelessly towards this very important cause."
The First Day's Vase is one of only four made by Wedgwood that survives from the first day at Etruria. Wedgwood, who was one of the pioneers of the industrial revolution, treasured the vases and said they should not be sold. Two of the other vases are owned by the Victoria and Albert Museum while the third remains in the Wedgwood family.
Sir Peter Luff, chair of NHMF, said: "A pioneer of the industrial revolution, Josiah Wedgwood remains one of the most significant names in UK ceramics and British industry more widely.
"This incredibly rare vase, thrown by Wedgwood himself, is of exceptional importance to our national heritage. That is why NHMF is so pleased to have been able to step up and help keep the vase in the UK where it was created."
The vase is inspired by ancient Greek pottery from the collection of Wedgwood's friend Lord Hamilton, and is believed to have been painted by William Hopkins Craft. The Etruria factory was the result of a partnership between Wedgwood and Thomas Bentley and remained in operation for 180 years until the company moved to its present location at Barlaston.
Notes to editors
Stoke-on-Trent has been shortlisted to become UK City of Culture 2021. The city is renowned worldwide for its history, heritage and culture. Culture is central to Stoke-on-Trent's current and future ambitions, and becoming UK City of Culture 2021 will significantly strengthen the city's profile and affirm its position as a successful visitor destination. Find out more information at: www.sot2021.com or follow @sot2021 for all the latest news.
For all media enquiries please contact Laura Webster in the Communications Department at Stoke-on-Trent City Council on 01782 232265.
Want to receive press releases, council news or job vacancies by email? Sign up for our online alerts at stoke.gov.uk/stayconnected.
For further information, please contact Katie Owen, NHMF Press Office, 020 7591 6036 or out of hours 07973 613 820. Email: KatieO@hlf.org.uk.