Celebrating Trafalgar Day with the acquisition of HMS Victory
To mark the Royal Navy's most famous day on Saturday 21 October, the scale model of HMS Victory is set to go on display in Portsmouth.
The National Museum of the Royal Navy (NMRN) at Portsmouth Historic Dockyard acquired the 142cm-long model with funding from NHMF, the Society of Nautical Research and the HMS Victory Endowment Fund.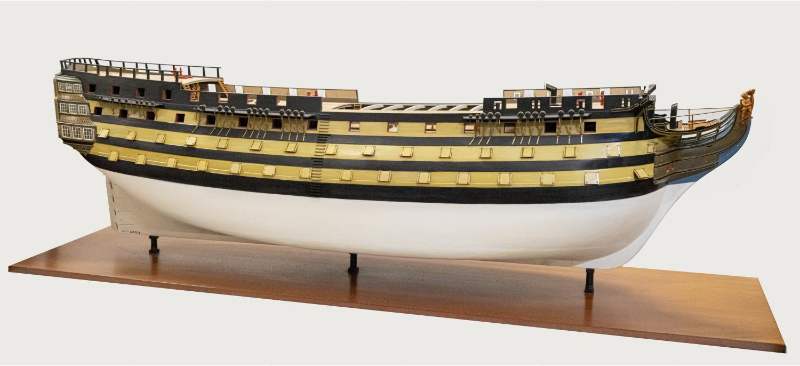 As well as being considered a perfect prototype at a 1:48 scale, the block model is the only known scale model of Victory from the time of Battle of Trafalgar. It is an important representation of how Victory's hull changed in the 40 years between her construction and the battle in 1805.
Andrew Baines, HMS Victory Project Director, The National Museum of the Royal Navy says: "The model's unveiling provides a remarkable before and after as Victory is currently undergoing a big repair."
"Today we use new techniques and innovative technology, including digital modelling, to plan our Victory repairs and conservation works."
A key piece of evidence for the early 19th century 
The acquisition of HMS Victory means that archaeologists at the National Museum can use photogrammetry – which turns photographs in 3D images – to highlight the differences and similarities between the model and the present-day Victory.
Dr Simon Thurley CBE, Chair of the National Heritage Memorial Fund, said: "The Battle of Trafalgar is one of the most significant naval battles ever, and a seminal moment in the history of the UK."
"It is wonderful news that this handsome ship model of HMS Victory, that has been acquired thanks to a National Heritage Memorial Fund grant of £247,000, will go on display at the National Museum of the Royal Navy Portsmouth to mark Trafalgar Day."
Entry to the gallery is included in a ticket to Portsmouth Historic Dockyard. Adult, child and family tickets can be booked on their website. 
Region
South East England