Renaissance master Peruzzi's 'The Nativity' saved for the UK
Thanks to NHMF funding, the rare artwork becomes the most significant Renaissance painting in a Northern Ireland collection and the artist's only painting publicly available in the UK.  
The Nativity will go on permanent display at the Ulster Museum in 2023 thanks to nearly £100,000 from the National Heritage Memorial Fund.  
Peruzzi in 16th century Rome 
Baldassare Peruzzi (1481-1536) was a painter, architect and draughtsman who worked for many important patrons, including several popes. He was a prominent figure during a period of great artistic innovation in early 16th century Rome – a time later known as the 'High Renaissance'. His contemporaries included Raphael and Michelangelo.  
The end of the Pagan world 
Peruzzi's knowledge of architecture informs The Nativity (circa 1515). The architectural ruins portray the ending of the Pagan world as Christ is born, when Roman buildings were said to have collapsed. The drama is enhanced by the night-time setting and a daring use of dark tonalities and side lighting, pre-empting works by Raphael and Parmigianino.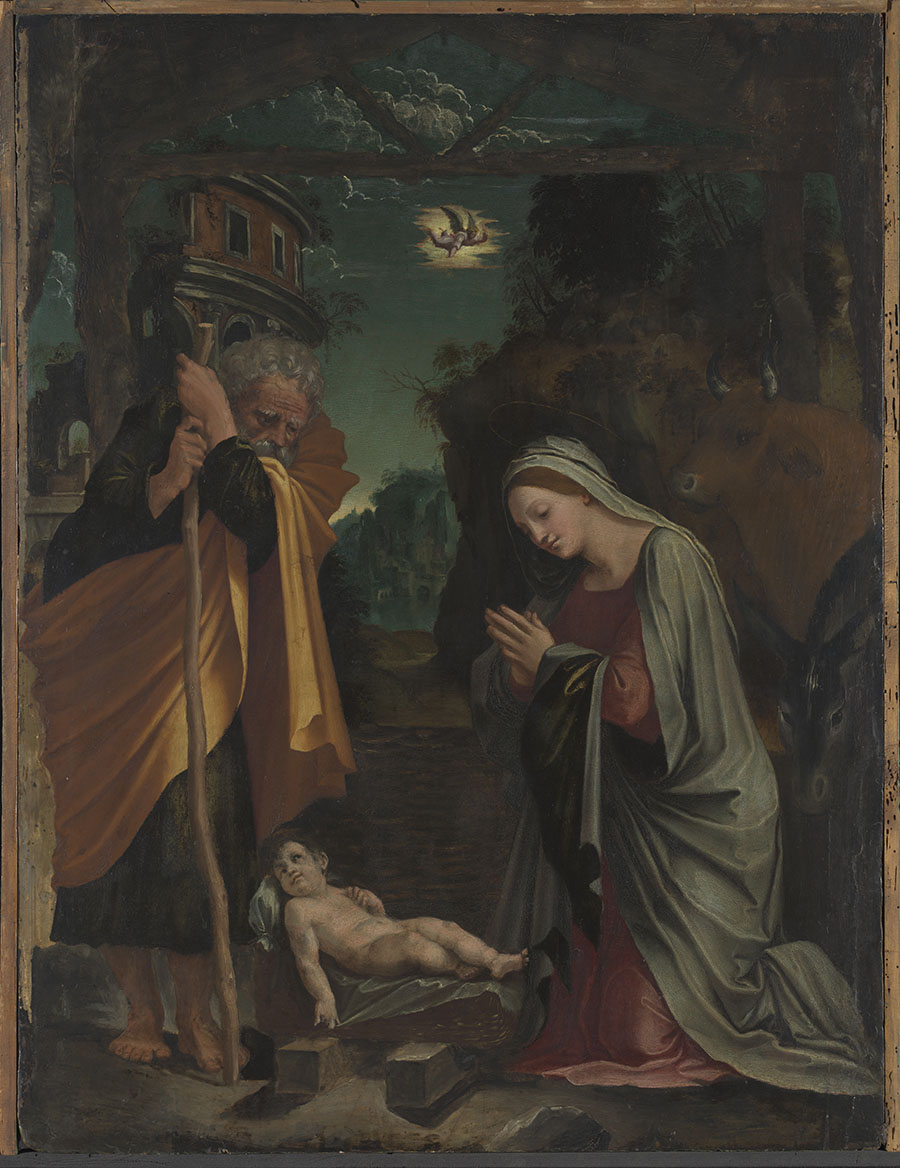 Saved for the UK 
The majority of Peruzzi's art works were in fresco and have since been lost to history, making The Nativity an incredibly rare piece. The painting had previously been privately owned within the UK. It was purchased by a buyer in the USA before being placed under export bar by the UK Government.
Thanks to NHMF funding, the painting will now go on permanent public display in Northern Ireland and be used in schools and community programmes. It is one of only a handful of works by Peruzzi to survive outside of Italy, and becomes his only work available in the UK. 
Dr Simon Thurley CBE, NHMF Chair, said: "It's wonderful and timely news that NHMF have been able to support the Ulster Museum in acquiring The Nativity by Peruzzi and ensure this incredibly important artwork remains in the UK. It truly is a fantastic Christmas present for art lovers, and in Northern Ireland in particular."
Shining light on the history of art
The Ulster Museum will link The Nativity with two further paintings in their collection: Turner's 'The Dawn of Christianity, The Flight into Egypt' (1841) and Francis Bacon's 'Head 11' (1949). Together they will be used to illustrate revolutionary developments in the history of art. 
The museum will also form a new partnership with the Robinson Library, Armagh, which holds a collection of prints by Peruzzi, Raphael and their circle. These will be displayed alongside the painting.  
Other funders 
Alongside NHMF's £99,990 grant, funding also comes from: 
Art Fund - £100,000 
Department for Communities - £70,000 
Esme Mitchell Trust - £8,000