National Museums Scotland acquires exquisite vase from a set of four designed by the gothic revival architect and designer William Burges (1827-81) for the Summer Smoking Room at Cardiff Castle
Image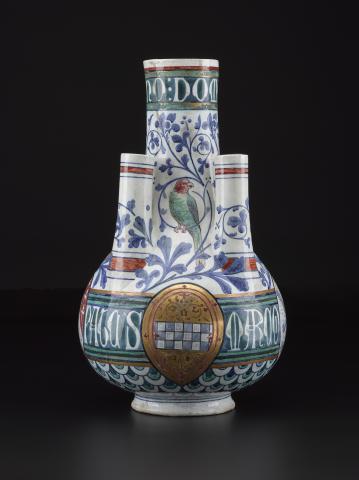 This cultural treasure had an export bar placed on it and its acquisition ensures that it will remain in the United Kingdom, going on display from Friday, 30 June in the Design for Living gallery at the National Museum of Scotland. The acquisition has been made possible with generous funding from the National Heritage Memorial Fund (NHMF) and the NMS Charitable Trust.
This important vase was part of Burges' concept for one of his greatest interiors; the Summer Smoking Room at Cardiff Castle, which was designed and built between 1866 and 1874; the first part of the re-building of the castle for the 3rd Marquess of Bute.
Bute was at that time one of the world's richest men, and Burges' most important client. A rare example of a free-standing ceramic by Burges, the vase was one of four originally designed for the room. The other three are all in public collections.
Dr Sally-Anne Huxtable, Principal Curator of Modern and Contemporary Design at National Museums Scotland said: "This exceptional vase is a key piece from one of Britain's most remarkable 19th century interiors, and an important addition to our internationally significant collections of European art and design. We are delighted to have had the opportunity to save it for the nation with the generous support of the National Heritage Memorial Fund and the NMS Charitable Trust."
The partnership between Burges and Lord Bute was one of the most imaginative and creative artist-patron relationships of the 19th century. Both men were fascinated by the art and design of the middle ages and both had a distinct vision of how the period might be translated into domestic interiors for their own time.
The double-height Summer Smoking Room is his most imaginative domestic interior now in public ownership and is one of only a handful of interiors he both conceived and completed in every detail, including the furnishings.
In each of the four corners of the room are alabaster columns with capitals taking the form of pairs of male and female figures, personifying the winds of ancient antiquity. Each one once supported a vase.
The decoration of the vase draws together the interests of both Burges and Lord Bute, incorporating elements of medieval and eastern design both in the shape and in the use of Isnik-style 'fish scales' decorating the base.
The body of the vase is decorated with motifs that were highly personal to Bute. The inscription, in Burges' favoured Lombardic script, reads 'Anno Domini 1874' at the top, and 'Johnes Patres, Marcio de Bute' on the main body. The heraldic decoration of the vase commemorates the Bute family name, Crichton-Stuart, within four shield-like panels.
Sir Peter Luff, Chair of NHMF said: "This is the second vase from William Burges' Cardiff Castle Summer Smoking Room collection that the National Heritage Memorial Fund has been able to help to keep in the UK. It is wonderful news that, with this acquisition, the final vase of the set of four is now in public ownership and that they will all be displayed for everyone to enjoy."