The University of Nottingham has acquired the last major collection of personal materials of the controversial author of Lady Chatterley's Lover, Sons and Lovers and Women in Love.
Image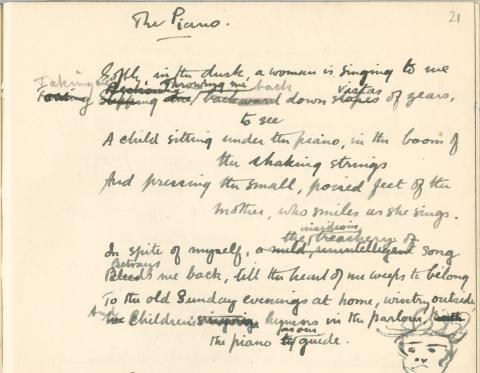 Image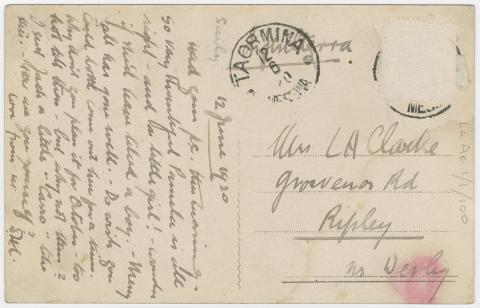 Image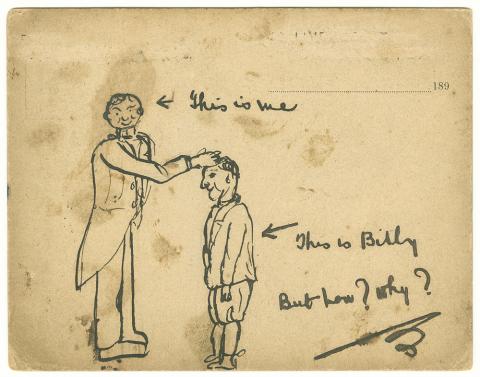 Image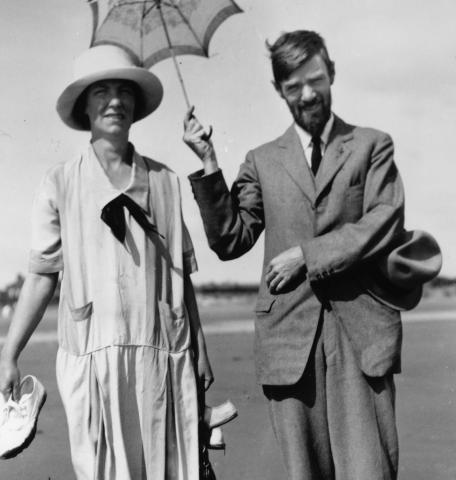 The University of Nottingham has acquired a unique archive of treasures linked to Nottinghamshire's most famous literary son, DH Lawrence.
Containing over 600 items, many of which are invaluable and irreplaceable, the collection is the last major cache of personal materials relating to the life and work of one of the most influential and controversial writers of the 20th century.
When the collection - which was in private ownership - came up for sale it was at risk of being purchased by overseas buyers or items dispersed among private collectors. Recognising the significance of the archive to the study and celebration of Lawrence's life and work, as well as to the national heritage, the university sought to secure it.  
It has now been purchased for the nation with a £278,500 grant from the National Heritage Memorial Fund (NHMF) alongside significant contributions from a number of charities including The Foyle Foundation, Friends of the National Libraries, Thriplow Charitable Trust, and The Aurelius Charitable Trust.
The archive
The archive is a treasure trove of items and is intimate in nature and includes drafts of published works; correspondence with family members; a diary entry; personal papers; and some of Lawrence's possessions. A notebook from his time spent as a student at University College Nottingham has lesson notes in the front pages, but on turning to the back pages, there are drafts of poems, doodles and sketches. 
Among the other personal items, a page from Lawrence's diary (9 August 1906) describes a day spent in Lincolnshire; and a sketch by Lawrence's elder brother depicts the two siblings together. Other highlights include a draft of the poem My Love, My Mother from 1911, and a draft poem of The Piano from 1916, both published in revised form in Amores — a collection of poems published in 1916.
The newly-acquired collection also includes fond and intimate correspondence between Lawrence and family members. From his travels in Italy there is a postcard sent from Sicily by Lawrence to his younger sister Ada Clarke in 1920; and a postcard sent to his nephew 'Jack' Clarke in 1927.
DH Lawrence
David Herbert Lawrence (1885-1930) was born and brought up in late Victorian industrial England, in the mining community of Eastwood, Nottinghamshire. From this working-class background he won scholarships to Nottingham High School and University College Nottingham, eventually taking up a post as a certified elementary school teacher in Croydon, south-east London. He then surpassed all expectations of a miner's son by becoming one of the greatest and most influential writers of his time.
Lawrence has always been closely connected to the University of Nottingham. He studied for his teacher's certificate from 1906-1908 at University College Nottingham (which went on to become the University of Nottingham in 1948). Four years later, he returned to Nottinghamshire where he sought advice from his former University College professor, Ernest Weekley. It was during this visit that he fell in love with Weekley's German wife Frieda, and the couple travelled together to Germany in May 1912 — Frieda leaving her husband, children and home in Nottingham for an uncertain future with the young writer.
Controversy began during his lifetime, with family, friends and literary critics divided in opinions about his character and creative genius. And hostility towards his writing continued even following his premature death in 1930, aged only 44.
His most famous novel, the notorious Lady Chatterley's Lover, was deemed by many to be pornographic, and 30 years after Lawrence's death, in 1960, the novel received international publicity through a trial at the Old Bailey. First published in 1928 in Italy and subsequently banned in Britain, the case of the Crown versus Penguin Books charged the publishers with breaking the Obscene Publications Act.
Penguin won the case and the acquittal was the first sign that victory was achievable against societal taboos; it marked the first symbolic moral battle between the humanitarian force of English liberalism and the repressive old Establishment. The verdict was a crucial step towards the freedom of the written word, at least for works of literary merit.
To some DH Lawrence is simply the infamous author of Lady Chatterley's Lover, Sons and Lovers and Women in Love, but to many others he is a powerful and challenging creative voice from the changing world of the first decades of the 20th century.
Lawrence and the University of Nottingham
The University's DH Lawrence Collections have grown steadily since the early 1950s. Lawrence was a former student of the University of Nottingham, and today, the University's Department of Manuscripts and Special Collections holds a rich repository of DH Lawrence manuscripts possessing one of the world's major resources for the study of Lawrence.
Craig Davidson of the University's Campaign and Alumni Relations Office, who led the fundraising appeal to acquire the collection, said: "The natural home for these items is Nottingham. It is where Lawrence spent his formative years, and it is his geographical heartland which these materials evoke. Lawrence also had strong connections to our institution, and so we felt very strongly that the collection should remain at its rightful home at the University of Nottingham."
Mark Dorrington, Keeper of Manuscripts and Special Collections, said: "Our DH Lawrence collections have already been designated as of national and international importance. As a former student of the University, it was crucial that we attempted to secure this collection for the University where it can be made available for teaching and research.
"I am absolutely delighted that our fundraising campaign has been successful and our already rich DH Lawrence collections strengthened."
Commenting on the significance and cultural value of the recent acquisition, Dr Andrew Harrison, Director of the University's DH Lawrence Research Centre in the School of English, said: "The University's purchase of this extremely important cache of DH Lawrence materials is excellent news and will be greeted with delight and relief by Lawrence scholars throughout the world. Its contents are invaluable and irreplaceable: they shed a uniquely detailed light on Lawrence's early life and his family connections.
"This acquisition further consolidates the national and international status of the Lawrence collections in Manuscripts and Special Collections at the University of Nottingham."
Significance to the UK's heritage
Commenting on the national importance of this archive, Chair of NHMF Sir Peter Luff, said:  "DH Lawrence remains one of the 20th century's most influential writers.  This intimate collection provides unprecedented context to his life and work. As the funder of the UK's most precious heritage at risk, the trustees of the National Heritage Memorial Fund felt it imperative to help secure it intact and here in the UK for future generations to explore and enjoy.
Items from the collection can be viewed at the Manuscripts and Special Collections Reading Rooms, the University of Nottingham, King's Meadow Campus, Lenton Lane, Nottingham, NG7 2NR.
More information is available from Liz Goodwin, Media Officer at the University of Nottingham on +44 (0)115 951 5798, liz.goodwin@nottingham.ac.uk; or Dr Andrew Harrison, Director of the University's DH Lawrence Research Centre at the University of Nottingham's School of English, at andrew.harrison@nottingham.ac.uk
Our academics can now be interviewed for broadcast via our Media Hub, which offers a Globelynx fixed camera and ISDN line facilities at University Park campus. For further information please contact a member of the Communications team on +44 (0)115 951 5798, email mediahub@nottingham.ac.uk or see the Globelynx website for how to register for this service.
For up to the minute media alerts, follow us on Twitter
Notes to editors:
The University of Nottingham
The University of Nottingham is a research-intensive university with a proud heritage, consistently ranked among the world's top 100. Studying at the University of Nottingham is a life-changing experience and we pride ourselves on unlocking the potential of our 44,000 students — Nottingham was named University of the Year for Graduate Employment in the 2017 Times and Sunday Times Good University Guide, was awarded gold in the TEF 2017 and features in the top 20 of all three major UK rankings. We have a pioneering spirit, expressed in the vision of our founder Sir Jesse Boot, which has seen us lead the way in establishing campuses in China and Malaysia — part of a globally connected network of education, research and industrial engagement. We are ranked eighth for research power in the UK according to REF 2014. We have six beacons of research excellence helping to transform lives and change the world; we are also a major employer and industry partner — locally and globally.
National Heritage Memorial Fund
The National Heritage Memorial Fund was set up in 1980 to save the most outstanding parts of our national heritage, in memory of those who have given their lives for the UK.
It will receive £5 million of Government grant in aid in 2018/19.
www.nhmf.org.uk. Instagram: @NationalHeritageMemorialFund #MemorialFinerThanStone
The DH Lawrence archive joins a diverse range of over 1,200 iconic objects and places which have been safeguarded by the NHMF to the tune of over £300million.  These include:
The Coenwulf Coin
The Mary Rose
The Flying Scotsman
The last surviving World War II destroyer, HMS Cavalier
A collection of the work of WWII code-breaker Alan Turing
The personal archive of Siegfried Sassoon, WWI soldier, author and poet.
Skokholm Island, Site of Special Scientific Interest (SSSI) in Pembrokeshire