The National Heritage Memorial Fund is marking 40 years of saving the most outstanding parts of our national heritage at risk.
Image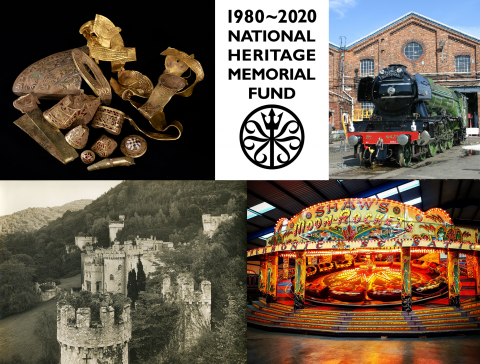 Set up in 1980, NHMF was created as a lasting memorial to those who have given their lives for the UK. 40 years on we are now celebrating an incredible world-class collection that will belong to the British people forever.
From 1980 to the present day, NHMF has saved outstanding heritage items, from literary collections and archaeological discoveries, to precious works of art and historic landscapes.
Ros Kerslake CBE, Chief Executive NHMF says, "We are delighted to mark the 40th year of the National Heritage Memorial Fund by supporting the acquisition of [the Shackleton sledge and sledge flag]. Over four decades the Fund has saved outstanding heritage across the breadth of the UK, creating a memorial in honour of those who have given their lives for the United Kingdom. Sadly, during the Covid-19 pandemic this memorial has become even more relevant."
Highlights from the last 40 years include:
Treasure and archaeological heritage

such as the Staffordshire Hoard (Birmingham Museum and Art Gallery and Potteries Museum and Art Gallery), Galloway Hoard (National Museums Scotland), Nimrud Ivories (British Museum), Frome Hoard (Somerset Museums and Heritage Service) and the Rudham Dirk (Norfolk Museums Service)

Built and architectural heritage

, such as Blackpool Grand Theatre, Belton House (National Trust), Gwrych Castle (the site of I'm a Celebrity Get Me Out of Here), the Manchester Jewish Museum and Prospect Cottage, former home and garden of Derek Jarman (1942-94), the visionary filmmaker, artist and activist
77 objects that were subject to export, such as Canova's Three Graces (V&A and National Galleries Scotland), the Macclesfield Psalter (Fitzwilliam Museum), Spanish Armada Miniature (National Museums Northern Ireland), and a William Burges Vase from Cardiff Castle (National Museum Wales)
Over 91,303 hectares of land, including parts of the Islands of Canna and Sanday, Kinder Scout in the Peak District and Brecon Beacons National Park

Industrial, maritime and transport

items, including the Flying Scotsman, Mary Rose, Triumph T20 prototype sportscar and Shaw's Moonrocket – a 'white knuckle' fairground ride now kept in working condition at the Dingles Fairground Heritage Centre

Literary and artistic

works which NHMF has made awards to includes the Minton Archive (Stoke), Sir Walter Scott Manuscripts (National Library of Scotland), Cuthbert Gospel – the earliest intact European book (British Library),Titian's 'Diana and Acteon,' (National Gallery and National Galleries Scotland), Barbara Hepworth's 'Two Forms' (The Pier Arts Centre), Martinware Crab (The Box) and 'Weeping Woman' by Picasso (Tate).
You can find out more about the items we've helped to saved over the last 40 years in our NHMF 40th blog.