Funding from Art Fund and the National Heritage Memorial Fund (NHMF) and Imperial War Museums (IWM) has successfully acquired Armistice Day (November 11 1918), an oil painting by renowned Irish wartime artist John Lavery.
Image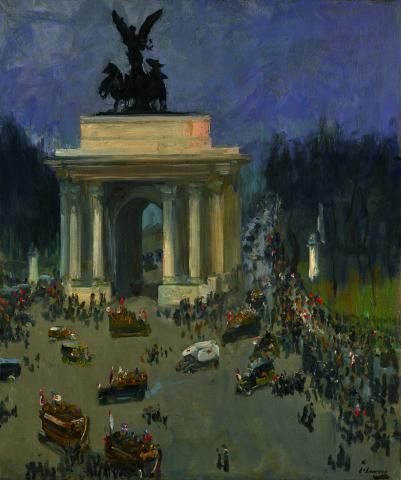 The painting depicts Armistice celebrations that took place at Wellington Arch in London in 1918. The acquisition comes as the UK marks the final year of the centenary of the First World War, and in the wake of the recent nationwide commemorations of the Armistice.
IWM plans to put the painting on temporary display at IWM London towards the end of the year as part of Making a New World, a free season of exhibitions, installations and immersive experiences that explore how the First World War has shaped today's society.
The painting is an important depiction of a pivotal moment in history, and also represents a significant moment in Lavery's own career. While he was an official War Artist during the First World War, this painting does not form part of that portfolio, nor was it a private commission. He painted the oil on canvas on Armistice Day itself, as he watched the scenes of joy unfold from his window in St George's Hospital. Moved by the emotion he witnessed and by the symbolism of the crowds celebrating below the statue "Peace Descending on the Quadriga of War" by Adrian Jones, which sits on top of Wellington Arch at Hyde Park Corner, the painting is Lavery's observation of and a personal, artistic response to the historic events taking place before his eyes in November 1918.
The painting was formerly part of a private collection and was presented at auction in Sotheby's yesterday. It was acquired at a hammer price of £200,000, with a buyer's premium of £50,000, by IWM. £125,000 was granted by Art Fund and £112,500 by NHMF, with IWM providing the remainder of the funds.
Rebecca Newell, Head of Art at IWM, said: "This is a fantastic acquisition for IWM, not just because of the historical and artistic importance of the painting, but because of the significance of Lavery to IWM. The museum commissioned various works from Lavery at different stages of his career and he made a huge contribution to our vast and varied art collection. The recent centenary commemorations have shown that although the First World War has passed out of living memory, it retains its importance for us today. This painting will help all those who engage with our collections to explore and appreciate the impact of the conflict. We are delighted to have been successful in this bid, and are grateful to the support of our partners at Art Fund and the National Heritage Memorial Fund for making it possible."
Stephen Deuchar, Art Fund director, said, "A century on from Armistice day, I can think of no better moment to be bringing this important painting by John Lavery into the IWM's collection. We're proud to support this acquisition and sure it will be enjoyed by visitors from across the country."
Sir Peter Luff, Chair of NHMF, said: "One hundred years on, we tend to view the First World War through the lens of annual Remembrance, paying sombre tribute to the men and women who died during the conflict. Sir John Lavery's Armistice Day helps us understand the war in a broader context, capturing the eruption of jubilation that spilled onto the streets of London when peace finally arrived. The National Heritage Memorial Fund safeguards our most important heritage, the very fabric of the nation, as a 'memorial finer than stone'. We therefore felt it imperative to help the Imperial War Museum secure this important painting so future generations can better understand this momentous conflict."
Notes to Editors
To arrange interviews with Rebecca Newell, Head of Art at IWM and Alex Walton, curator, First World War at IWM, contact: Anna Wigley, Communications Manager (Corporate) on awigley@iwm.org.uk / 020 7091 3074
IWM
IWM (Imperial War Museums) tells the story of people who have lived, fought and died in conflicts involving Britain and the Commonwealth since the First World War.
Our unique Collections, made up of the everyday and the exceptional, reveal stories of people, places, ideas and events. Using these, we tell vivid personal stories and create powerful physical experiences across our five museums that reflect the realities of war as both a destructive and creative force. We challenge people to look at conflict from different perspectives, enriching their understanding of the causes, course and consequences of war and its impact on people's lives.
IWM's five branches which attract over 2 million visitors each year are IWM London, IWM's flagship branch that recently transformed with new, permanent and free First World War Galleries alongside new displays across the iconic Atrium to mark the Centenary of the First World War; IWM North, housed in an iconic award-winning building designed by Daniel Libeskind; IWM Duxford, a world renowned aviation museum and Britain's best preserved wartime airfield; Churchill War Rooms, housed in Churchill's secret headquarters below Whitehall; and the Second World War cruiser HMS Belfast.
Making a New World
IWM's Making a New World season is open in London until 31 March 2019. The four exhibitions that form part of the season are Renewal: Life after the First World War in Photographs; I Was There: Room of Voices, a new immersive sound installation that reveals responses to Armistice; Mimesis: African Solider, a new multi-screen installation from artist John Akomfrah co-commissioned by 14-18 NOW and New Art Exchange; and Moments of Silence, an immersive, audio-visual reflection on memory and remembrance rituals created by 59 Productions.
Art Fund
Art Fund is the national fundraising charity for art. In the past five years alone Art Fund has given £34 million to help museums and galleries acquire works of art for their collections. It also helps museums share their collections with wider audiences by supporting a range of tours and exhibitions, and makes
additional grants to support the training and professional development of curators. Art Fund is independently funded, with the core of its income provided by 139,000 members who receive the National Art Pass and enjoy free entry to over 240 museums, galleries and historic places across the UK, as well as 50% off entry to major exhibitions and subscription to Art Quarterly magazine. In addition to grant-giving, Art Fund's support for museums includes Art Fund Museum of the Year (won by Tate St Ives in 2018) and a range of digital platforms.
National Heritage Memorial Trust
The National Heritage Memorial Fund (NHMF) was set up in 1980 to save the most outstanding parts of our national heritage, in memory of those who have given their lives for the UK. It will receive £5 million of Government grant in aid in 2018/19.