The Hepworth Wakefield in West Yorkshire has acquired a work by pioneering British artist Ben Nicolson (1894-1982) thanks to a £1.5million National Heritage Memorial Fund grant, along with £500,000 from the Art Fund and donations from other trusts, foundations and individuals.
A relief for The Hepworth Wakefield
Quai d'Auteuil,1935, had been on long term loan to the gallery since February 2015 and will now form part of its permanent collection. 
The work is an outstanding example of Ben Nicholson's unique 'carved paintings' – white reliefs that drew inspiration from the sculptural forms of work by the artist Barbara Hepworth, his soon-to-be second wife. 
Nicholson felt that these works conveyed purity and simplicity, describing Quai d'Auteuil as having 'a marvellous peacefulness'. It is named after the Parisian street where the work was conceived, while Nicholson visited his children and first wife, the painter Winifred Nicholson.
A Modernist masterpiece
The important artwork is regarded as highly significant to the development of the British Modernism movement as well as one of Nicholson's most important contributions to international modernism.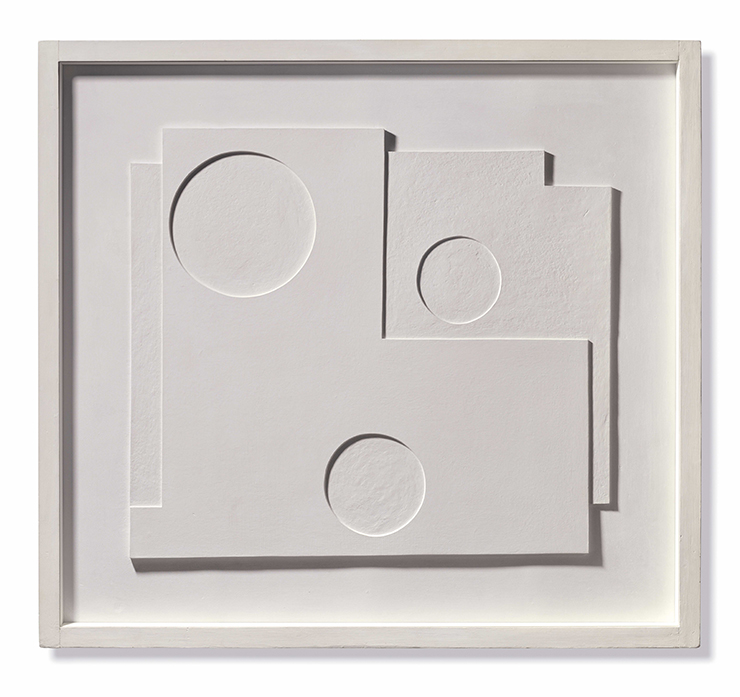 During his time in Paris Nicolson met with many of his continental peers including Alberto Giacometti, Piet Mondrian, Pablo Picasso and Wassily Kandinsky. As he travelled between his family in Paris and Barbara Hepworth in London, Nicholson became a crucial channel for distributing information about the development of modernism between the two cities.
Another UK treasure secured thanks to NHMF funding
Culture Secretary Nadine Dorries said: "I am delighted that Ben Nicholson's  wonderful Quai d'Auteuil will now be able to be enjoyed and appreciated by everyone who visits The Hepworth Wakefield. The government's Acceptance in Lieu scheme has helped make this happen by transferring the piece into public ownership. I know it will be an invaluable addition to the great collection housed in this West Yorkshire institution." 
Dr Simon Thurley CBE, Chair, The National Heritage Memorial Fund said: "We are delighted to have supported the acquisition of Ben Nicholson's Quai d'Auteuil with a grant of £1.5m. It is a hugely significant piece created during Nicolson's relationship with Barbara Hepworth demonstrating how the artists shaped the formation of each other's work. 
"It is highly appropriate that Quai d'Auteuil now forms part of the permanent collection at The Hepworth Wakefield. It joins the many hundreds of important and much-loved treasures that can be seen and enjoyed across the UK thanks to the National Heritage Memorial Fund."
Simon Wallis, Director of The Hepworth Wakefield said: "We are so grateful to the individuals, trusts and foundations and particularly to the National Heritage Memorial Fund and Art Fund for recognising the importance of this work and making this acquisition possible at a time when there were so many competing demands for funds. 
"The addition of this masterpiece to our collection will ensure the work is enjoyed by a broad and diverse audience and enables us to tell the story of the development of abstract art in Britain with a work that matches the quality and importance of those we already hold by Barbara Hepworth, Henry Moore, Naum Gabo, and others.
"It is wonderful to have such positive news to share in our 10th anniversary year and as we come out of a very challenging 18 months in the museum and gallery sector."
See it now 
Quai d'Auteuil is now on display in The Hepworth Wakefield's 10th anniversary exhibition, Barbara Hepworth: Art & Life, which runs until 27 February 2022.