A unique Bronze Age gold torc, regarded as the best to be found in England in more than a century, has been saved for the nation thanks to £138,600 from the National Heritage Memorial Fund (NHMF). 
Image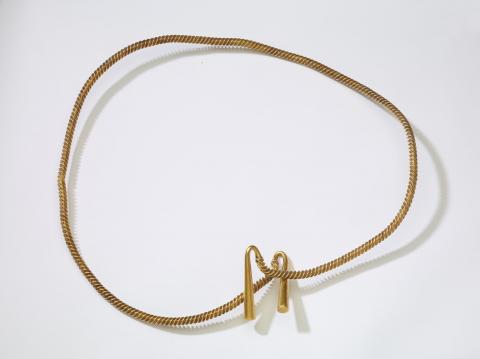 The torc, found by metal detectorists in a ploughed field in East Cambridgeshire, is much larger than usual examples and is made of 730g of almost pure gold. The discovery was reported to Helen Fowler, the local Finds Liaison Officer, based at Shire Hall in Cambridge. Helen notified the local coroner, as required by law, and the torc was declared 'Treasure' at inquest, and confirmed as Crown property. The finders have chosen to remain anonymous. 
Neil Wilkin, Curator of Bronze Age Europe at the British Museum has described the workmanship as "astonishing". He said: "There has been much speculation about its use as it is so large. Perhaps it was worn over thick clothing, used to ornament a sacrificial animal or statue or even worn by pregnant women as a form of protection."
The torc dates from the Penard phase of the Middle Bronze Age, c. 1300-1100 BC.  It is the largest ever found in England, with a circumference of 126.5cm. It is made using exceptionally skilled goldworking technique and has three components: two trumpet-shaped terminals and a long gold bar which has been twisted and burnished.
Ros Kerslake, Chief Executive of NHMF, said: "Without funding from the NHMF, there is a risk the torc could have ended up in private hands and been lost from public view.  Thankfully this extraordinarily rare, precious and beautiful piece of history will now be on permanent display at Ely Museum, helping to tell the story of Bronze Age civilisation in and around the fens more than 3000 years ago."
The NHMF, a fund of last resort to save heritage at risk, has given Ely Museum a grant of £138,600 towards the acquisition of the East Cambridgeshire gold torc. The museum has also received £37,000 from the Arts Council England/Victoria and Albert Museum Purchase Grant Fund, £17,000 from the Art Fund and £10,000 each from the Headley Trust and The Museums Assosciation Beecroft Bequest. Over £7,000 was raised through donations from local people. This money will now form a reward to be split between the finder and the owner of the land where the torc was found.
The torc will be on public display from Saturday 7 October.
Ely Museum has recently attracted Heritage Lottery Funding of £159,300 to develop plans for a major refurbishment. The museum plans to apply for a full grant of around £1.7million next year and will need to raise a further £350,000. The gold torc will be a centrepiece of the newly designed Prehistoric Gallery.
Ely Museum is on the corner of Market Street and Lynn Road only 250m away from the Cathedral's west door. The museum is open Monday, Wednesday to Saturday from 10.30am to 4pm and on Sundays from 1pm to 4pm. Entry is £4.50 for adults and £4 for concessions, £1 for children and under 5s are free. Tickets are valid for one year.
Further information
For more information, please contact Simon Oliver, National Heritage Memorial Fund on 020 7591 6032, or simon.oliver@hlf.org.uk
There will be an opportunity for press photographs on Wednesday 4 October.
Please contact Elie Hughes, Ely Museum Curator on 01353 666655 or curator@elymuseum.org.uk
Notes to editors
The Arts Council England/Victoria and Albert Museum Purchase Grant Fund is a government fund that helps regional museums, record offices and specialist libraries in England and Wales to acquire objects relating to the arts, literature and history. It was established at the Victoria and Albert Museum (V&A) in 1881 and continues to be part of its nationwide work.  The annual grants budget, currently £750,000, is provided by Arts Council England (ACE). Each year, the Purchase Grant Fund considers some 200 applications and awards grants to around 100 organisations, enabling acquisitions of over £3m to go ahead. Visit the website: www.vam.ac.uk/purchasegrantfund
Art Fund is the national fundraising charity for art. In the past five years alone Art Fund has given £34m to help museums and galleries acquire works of art for their collections. It also helps museums share their collections with wider audiences by supporting a range of tours and exhibitions, and makes additional grants to support the training and professional development of curators. Art Fund is independently funded, with the core of its income provided by 123,000 members who receive the National Art Pass and enjoy free entry to over 240 museums, galleries and historic places across the UK, as well as 50% off entry to major exhibitions and subscription to Art Quarterly magazine. In addition to grant-giving, Art Fund's support for museums includes Art Fund Museum of the Year (won by the The Hepworth Wakefield in 2017) and a range of digital platforms.
Find out more about Art Fund and the National Art Pass at www.artfund.org
What is a Torc?
'Torc' is the general term applied to large bracelet-like rings of metal from the Bronze Age and Iron Age. Many are of a size that indicates they were probably worn around the neck. Complete Bronze Age gold torcs are quite rare discoveries but interestingly, a torc of similar style to the East Cambridgeshire torc was found in Corrard, Northern Ireland in 2012 and acquired by Ulster Museum.  
The Treasure Act 1996
Under the Treasure Act (finds.org.uk/treasure) finders have a legal obligation to report all finds of potential Treasure to the local coroner in the district in which the find was made. The success of the Act is only possible through the work of the Portable Antiquities Scheme, advising finders of their legal obligations, providing advice on the process and writing reports for coroners on Treasure finds.
The Act allows a national or local museum to acquire Treasure finds for public benefit. If this happens a reward is paid, which is (normally) shared equally between the finder and landowner. Interested parties may wish to waive their right to a reward, enabling museums to acquire finds at reduced or no cost. Rewards are fixed at the full market value of the finds, determined by the Secretary of State upon the advice of an independent panel of experts, known as the Treasure Valuation Committee.
The administration of the Treasure process is undertaken at the British Museum. This work involves the preparation of Treasure cases for coroners' inquests, providing the secretariat for the Treasure Valuation Committee, and handling disclaimed cases and the payment of rewards.
The Portable Antiquities Scheme
Thousands of archaeological objects are discovered every year, many by members of the public, particularly by people while metal-detecting. If recorded, these finds have great potential to transform archaeological knowledge, helping archaeologists understand when, where and how people lived in the past.
The Portable Antiquities Scheme (www.finds.org.uk) offers the only proactive mechanism for recording such finds, which are made publicly available on its online database. This data is an important educational and research resource that can be used by anyone interested in learning more.
The Portable Antiquities Scheme is managed by the British Museum, and funded by the Department for Culture, Media and Sport through a grant, the British Museum and local partners. Its work is guided by the Portable Antiquities Advisory Group, whose membership includes leading archaeological, landowner and metal-detecting organisations.