The Box, Plymouth has raised nearly a £250,000 from five key funders to save a rare piece of 19th century studio pottery for the nation. 
Image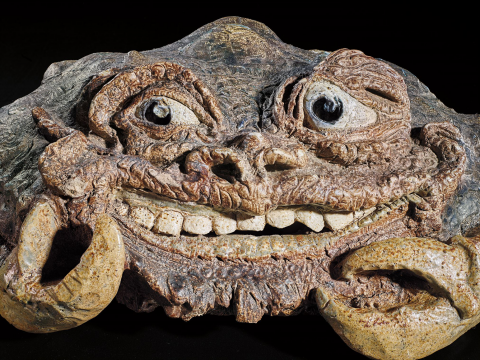 The work of art is a large sculpture of an anthropomorphic crab made in June 1880 by Robert Wallace Martin (1843-1923) and is the earliest, largest surviving sculpture by him in the UK.  
It's a humorous object measuring almost half a metre long with grinning eyes, a curling moustache, cropped beard and smile of uneven teeth.  
Robert Wallace Martin, Walter Martin (1857-1912), Edwin Martin (1860-1915) and Charles Martin (1860-1910), collectively known as the Martin Brothers, are considered the first art potters of Britain and excelled as designers and makers. 
In the 1800s Britain was fascinated both with natural history and the macabre. The Martin Brothers recognised this and explored the decorative potential of the knobbly, crooked, wiry and curious through their work particularly Robert, who had trained as a sculptor and was the most experimental of them all, creating 'grotesques' and other works that fused specimens from nature with human features. 
Until now, the crab has been held in private collections. The only other known work of this scale is believed to be in a private collection in the USA. Last year, the Department for Digital, Culture, Media and Sport placed an export bar on the sculpture in a bid to keep it in the UK. 
Now, thanks to five awards of £137,200 from the National Heritage Memorial Fund (NHMF), £30,050 from Art Fund, £20,000 from the Arts Council England/V&A Purchase Grant Fund, £15,000 from the Henry Moore Foundation and £10,000 from the Decorative Arts Society, the work will remain in the UK and become part of The Box's permanent collections. 
Plymouth City Council Leader, Tudor Evans said: "This is an astonishing acquisition and fundraising effort that signifies the ambition of The Box. 2020 is going to be such an exciting year for our fantastic new museum, gallery and archive. What better way to start it by securing such amazing support for this one-of-a-kind work of art." 
Plymouth City Council Shadow Leader, Ian Bowyer said: "Huge congratulations to everyone at The Box who has been involved with acquiring this distinctive piece of pottery, and for securing such a large amount of funding support so it can finally be enjoyed by the public. It's definitely going to be a talking point with visitors when it goes on display." 
Arts Minister Helen Whately said: "The Martin Brothers' crab is a remarkable sculpture. It is truly one-of-a-kind and I am pleased it will now go on public display at The Box. Our export bar system exists so that we can keep important works like this in the UK, and I want to thank everyone who has contributed to help save it for the nation." 
As well s being a significant addition to The Box's existing and popular collection of Martinware, the crab also connects with its natural history collections and will provide inspiration for family events and STEM activities for schools.  
The Box is also developing an exhibition highlighting the work of the Martin Brothers, their influence and South West connections and art and science in the Victorian age for 2021/2022. 
Art Curator at The Box, Terah Walkup said: "Although the crab looks amusing on first sight it's a truly unique object that stretches the boundaries of art and science with its combination of anatomical detail and human expression. Its scale and design mark an important moment in the Martin Brothers' production. It's a really ambitious work that we're thrilled to be able to acquire and display when we open on 16 May." 
Interim Chair of NHMF, René Olivieri said: "Unique and certainly eye-catching, the Martinware crab reflects Victorian fascination with the natural world and the macabre. Now, after 140 years in a private collection, the sculpture has been saved to become part of the nation's heritage and will finally go on public display. The National Heritage Memorial Fund is delighted to support this acquisition." 
Chairman of the Decorative Arts Society, Martin Levy said: "The Decorative Arts Society congratulates The Box on saving this exceptional work of art for the nation and is delighted to have contributed significant funding at the beginning of the campaign."
To find out more about The Box visit theboxplymouth.com