Two Late Bronze Age neckrings saved for nation by the National Heritage Memorial Fund as it celebrates its 20th anniversary year.
Image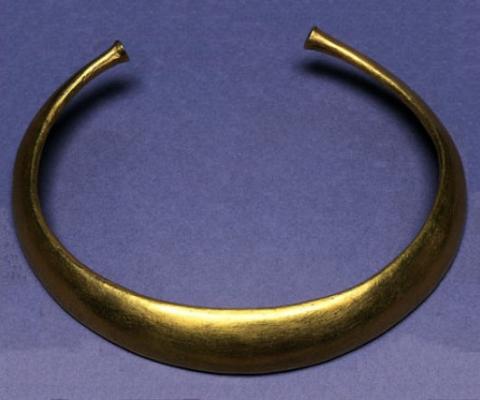 Two Late Bronze Age Neckrings have been acquired for the Dorset County Museum.  Discovered last summer on the South Dorset coast, the neckrings date from 1000-800 BC and are rarely found in Western Europe.
The neckrings, never displayed before in public, will be collected from the British Museum, where they have been in safekeeping during the Treasure Act procedure and escorted to Dorset with a team from the Dorset County Museum at midday on Friday.  They will be modelled by Jan Stroud from the Dorset Museum.
In addition, details of an important acquisition for display at the Courtauld Institute Gallery will also be released.  The two acquisitions have also received funding from the National Art Collections Fund and the Museums and Galleries Commission/ Victoria and Albert Purchase Grant Fund.
Further information
Lydia Davies or Damian Wilson, Heritage Lottery Fund Press Office
Phone: 0171 591 6032 / 34
Andrew Hamilton, British Museum Press Office Phone: 0171 323 8987
For images of the Seurat required for the Courtauld Institute Gallery contact Susan Blake Phone: 0171 848 2538