Art Fund director Stephen Deuchar has announced the launch of the Art Fund's £3.5million public appeal to save and preserve Prospect Cottage in Dungeness, Kent, the home and garden of visionary filmmaker, artist and activist, Derek Jarman, for the nation.
Image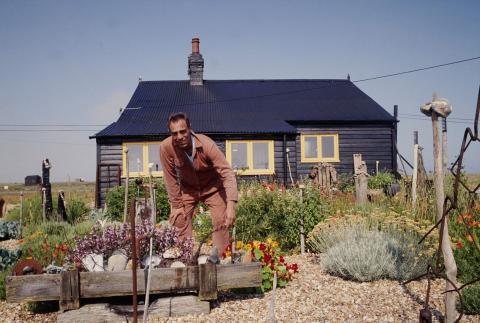 Photo: © Howard Sooley
Art Fund needs to raise £3.5m by 31 March 2020 to purchase Prospect Cottage and to establish a permanently funded programme to conserve and maintain the building, its contents and its garden for the future. Major grants from the National Heritage Memorial Fund, Art Fund, the Linbury Trust, and private donations have already taken the campaign half way towards its target. Art Fund is now calling on the public to make donations of all sizes to raise the funds still needed.  
Through an innovative partnership between Art Fund, Creative Folkestone and Tate, the success of this campaign will enable continued free public access to the cottage's internationally celebrated garden, the launch of artist residencies, and guided public visits within the cottage itself. Creative Folkestone will become custodians of Prospect Cottage, oversee its long-term care and run these programmes. Jarman's important archive from the cottage, including his sketchbooks and plans for the garden, will be entrusted to Tate and made available for public access at Tate Britain.
Without Art Fund's appeal, Prospect Cottage is at risk of being sold privately, its contents dispersed, and artistic legacy lost.
Deuchar launched the campaign with the support of Tilda Swinton, Tacita Dean, Jeremy Deller, Michael Craig-Martin, Wolfgang Tillmans, and Creative Folkestone director Alastair Upton and Tate director Maria Balshaw.
Leading artists have come together to create limited edition works of art as rewards for public donations on Art Fund's crowdfunding site www.artfund.org/prospect. They include prints, objects and works of art by artists including Michael Craig-Martin, Tacita Dean, Jeremy Deller, Isaac Julien, Howard Sooley, and Wolfgang Tillmans, ranging from £25 to £1,250.
After Jarman purchased the cottage in 1986, it quickly became a source of inspiration and a creative hub where his parallel artistic practices and collaborators came together. Today it represents the most complete distillation of his pioneering creativity across film, art, writing and gardening: from his 1990 film The Garden starring Tilda Swinton, to his journal, Modern Nature, and from poetry etched in the glass, to driftwood sculptures and the remarkable garden he created on the shingle beach.
More than 25 years after his death, Prospect Cottage continues to be a site of pilgrimage for people from all over the world who come to be inspired by its stark beauty and by Jarman's legacy. The cottage and its contents are now being sold following the death in 2018 of Keith Collins, Jarman's close companion in his final years, to whom he bequeathed the cottage.
Stephen Deuchar, Art Fund director, said: 'Prospect Cottage is a living, breathing work of art, filled with the creative impulse of Derek Jarman at every turn. It's imperative we come together to save the Cottage, its contents and its extraordinary garden as a source of creative inspiration for everyone. My heartfelt thanks to the National Heritage Memorial Fund, Linbury Trust and my own trustees for leading the way in so supportively committing funds, and to the many artists who are helping us reach a wider public through our crowdfunding initiative. But so far we're only halfway there, so I call on everyone to make a donation, large or small, to help us secure, preserve and maintain Prospect Cottage, forever.'
Tilda Swinton, actor, said: 'My excitement about this vision for Prospect Cottage lies in its projected future as an open, inclusive and encouraging machine for the inspiration and practical working lives of those who might come and share in its special qualities, qualities that, as a young artist, I was lucky enough to benefit from alongside Derek and so many of our friends and fellow travellers.'
Alastair Upton, Creative Folkestone director, said: 'We are delighted to be working alongside Art Fund and Tate, to save Prospect Cottage. As its custodians, we will conserve, maintain and nurture Prospect Cottage as well as establish a residency programme for artists, writers, gardeners, activists and more to continue the legacy of Derek Jarman for future generations. Creative Folkestone are dedicated to opening up the opportunities for creativity to flourish and Prospect Cottage will help us to inspire people from across Kent, the UK and beyond.'
Maria Balshaw, Director, Tate, said: 'Prospect Cottage and garden is a work of art as much as a place, and it gives us a remarkable insight into Jarman's life, work and friendships. Bringing some of the most fragile objects into Tate's archives protects this artistic legacy for future generations and we know they will be of huge interest to researchers and the public. We are also committed to ensuring Jarman's powerful artistic legacy remains in the extraordinary environment of Dungeness and are delighted to be working with the Art Fund and Creative Folkestone to secure its long-term future.'
René Olivieri, Interim Chair of the National Heritage Memorial Fund, said: 'A striking place of creativity on the Dungeness landscape, Prospect Cottage and its garden are a vital part of Derek Jarman's artistic legacy and can now become a treasured part of the nation's heritage. The compelling story of the cottage, its internationally renowned garden and the significant collection held within its walls meant we at the National Heritage Memorial Fund felt it imperative to award £750,000 to help save Prospect Cottage for the nation.'
Sir Nicholas Serota, Chair of Arts Council England, said: 'The Arts Council welcomes this initiative to ensure the long term preservation and public access to this site. Creative Folkestone, an Arts Council supported organisation with a strong track record in this is area, is ideally placed to become custodians of Jarman's iconic cottage. For the first time, members of the public will not only be able to visit but will also be offered the opportunity to look inside the cottage and artists, creatives and film makers- alike will be given the chance to take part in a residency programme. This programme will breathe life into this remarkable building that has become a shrine to so many in the creative community.'
Tacita Dean, artist, said: 'Prospect Cottage became a place of pilgrimage not by design but rather by the sheer force of what Derek Jarman represented to so many of us. Derek found solace and community in this weatherworn place and harvested its harsh beauty to make his beloved garden  and his books, films and paintings. In so doing, he gave us a part of his discovery and infectious spirit of creative adventure, which we now have the opportunity to protect and cherish for future generations.'
Isaac Julien, artist and Art Fund trustee, said: 'Derek Jarman was an inspiration for an entire generation. When I curated his solo show Brutal Beauty at the Serpentine Gallery in 2008 and Tilda Swinton, Colin MacCabe and I created the film Derek, our aim was to preserve and reintroduce his legacy to a new audience. Prospect Cottage is a work of art that has become a national treasure. As an artist and Art Fund trustee, I am incredibly excited and moved by the campaign to make Prospect Cottage and its garden Jarman's most iconic artwork - one to inspire the next generation as he did mine.'  
Artist Jeremy Deller said, 'Derek Jarman was an inspirational provocateur in the cultural life of Britain, and a great role model for any artist looking to cause a bit of trouble. I'm happy to now be working with other artists to give people a chance to own a work of art in return for a donation to help save this special place, Prospect Cottage.'